Total room capacity of the "Nikolaevskiy" hotel.
In the "Nikolaevskiy" hotel there are 18 rooms, which are divided into four categories.
4 rooms Standard (Standard Class Room), 9 rooms, The Business Class (Business Class Room), 3 rooms-Studio (Studio), 2 room categories Apartments (Apartment).
Room type "Studio", "Business", "Standard" assumes double occupancy with the possibility of providing additional beds. Room categories Apartment includes a 6-pax accomodation.
All the rooms of our hotel are equipped with modern appliances. In each room, regardless of category are: LCD TV, individual air-conditioning, Wi-Fi, telephone, hair dryer, iron, ironing board, kettle, safe.
Our hotel is provides a wide range of additional free and paid services:
- Laundry, extra beds, extra bathrobe, an unscheduled change of linen, use of mini-bar (payed);
- Providing an extra pair of slippers, dental, clothing or shaving kits, phone calls by numbers in the city and on the cellular phones, cable TV (free).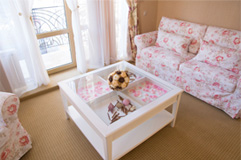 Apartment Luxe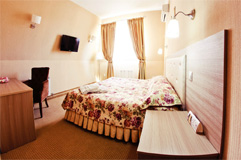 Apartment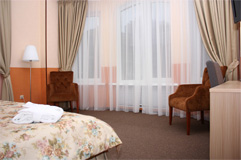 Studio Room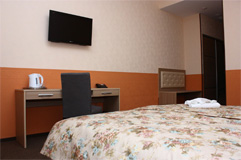 Business Class Room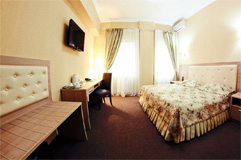 Standard Class Room